Why start a club?
Empower your students, foster critical and creative thinking skills, and have some fun!
Starting a Kindness Club at school is a great way for young students to get together and share ideas, plan and carry out meaningful and empowering activities for change and spread awareness about animal rights, welfare and protection issues in their communities.
What is the Kindness Club Kit?
The Kindness Club kit is suitable for students in Years 3–8, but can easily be adapted for most year levels. It contains an 8-page booklet to help students set up their club and includes information for club facilitators. Students can then use the campaign ideas in their booklet to start their club's first activities, or use them to develop their own ideas for their first campaigns.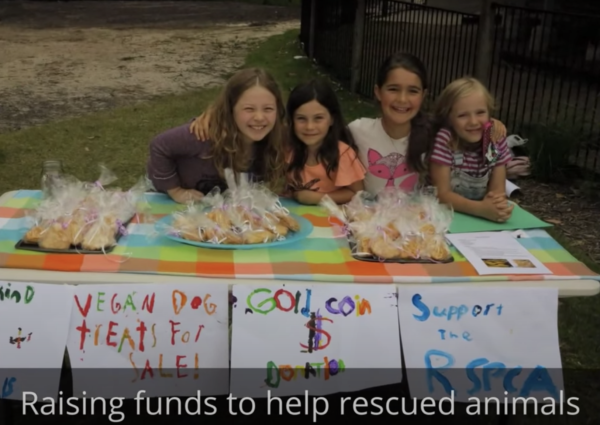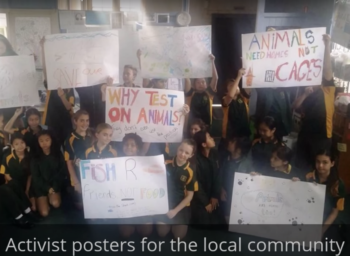 Skill Builders
The five skill builders included in the booklet have been developed by experienced activists and teachers to teach students about different types of effective and peaceful activism, such as letter-writing, petitioning, using print and video media and fundraising.
Topic Fact Sheets
The five topic sheets explore different animal-related issues in Australia. They also include research points and discussion questions to encourage students to think critically about the information and conduct their own investigations.
Order a Physical Kit
We have a limited number of physical kits available, which include an A3 poster, stickers and bookmarks.
What's Inside the PDF Kit?
The PDF Kit includes the 8-page booklet, poster and five topic sheets: Making Kind Food Choices, Pretty Kind (cosmetic animal testing), Lend a Paw (animal adoption), Cutting Out Animal Dissection and Wildlife Warriors (palm oil and deforestation). *Excludes stickers and bookmarks
Download the Kindness Club Kit
So what are you waiting for? Download everything your students need to get their Kindness Club started today!