GO MEAT-FREE ONCE A WEEK!
Meatless Mondays are a fun and easy way for schools to reduce their carbon and water footprint, encourage healthy eating and empower students to make informed food choices.
Did you know it takes more than 2000 litres of water to make just one hamburger, and more than 15,000 litres to make one piece of steak?
Animal agriculture requires a huge amount of land, food, energy, and water. The WorldWatch Institute estimates that a staggering 51 percent of global greenhouse gas emissions are caused by animal agriculture, and the United Nations has also urged everyone to eat less meat to combat global warming.
Meatless Mondays are a fun and easy way for schools to reduce their carbon and water footprint, encourage healthy eating and empower students to make informed food choices. The initiative already takes places in hundreds of schools around the world, from the United States to the Philippines, to educate children about healthy and sustainable eating.
What is in the Meatless Mondays School Kit?
The Meatless Mondays School Kit provides helpful resources to help you launch a Meatless Mondays initiative in your school. It includes a colourful school poster, information sheet and two-page activity sheet suitable for primary school students. Scroll to the top of the page and click the button to download your free kit.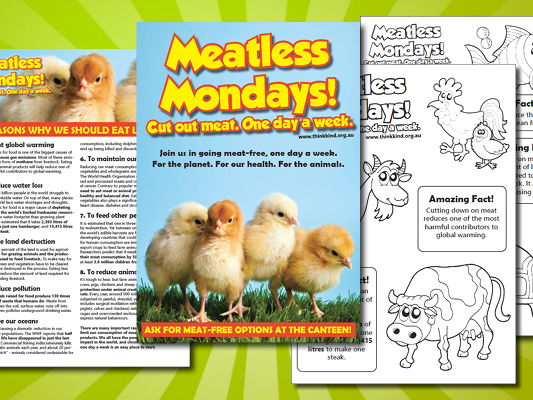 Meatless Mondays Tips for the School Canteen
Introducing more sustainable and ethical menu options in the school canteen is something that all schools can embrace. Here are some simple and affordable ways your school can get on board.
1. Advertise Meatless Mondays with posters and flyers
Build excitement and interest by advertising your Meatless Mondays initiative with fun and informative posters and flyers around your school. Use your posters to explain why your school is getting on board with the initiative by sharing important statistics or infographics about the impact of excessive meat, dairy and egg consumption on the environment and on our health. Build momentum in a fun and positive way – your students will be getting involved in something hugely beneficial for the planet, and that's definitely something to get excited about!
2. Involve students by launching a poster competition
Get students thinking about the importance of making informed food choices by organising a student poster competition to launch Meatless Mondays at your school. This is a great way to engage students and invite them to be a part of making positive changes in the school community. You can use student posters to promote the event around the school and display the messages and statements that matter to them. Your school can also have a special dress up day and decorate the canteen to promote the launch.
Another fun way to involve students is to run a classroom tasting session to get student feedback, or even run a competition to name new menu items. Ask students to come up with catchy names for the campaign (it doesn't have to be called Meatless Mondays) or even allow your environmental student groups or animal rights groups to announce it at the school assembly. You can also incorporate Meatless Mondays into a project for food science, nutrition or sustainably lessons.
Check out how students introduced more meat-free options at their school in the ThinkKind New Zealand competition!
3. Inform parents through your school newsletter and website
Don't forget to let parents know about Meatless Mondays before it takes off, and make sure you communicate clearly the reasons for why your school is taking part. Some schools choose to only sell meat-free or vegan options on Mondays, while others advertise the initiative while still providing their regular menu options. Either way, it's important to keep parents in the loop. Keep them informed on the nutritional information of your meat-free options, including protein and iron content. Don't forget to also announce the campaign on your school website and social media sites. If your school has a Twitter account, use the hashtags #MeatlessMondays to share photos of your delicious menu options and show off your students getting involved!
4. Include a 'Green' section in your canteen menu
For students who want to make a bigger impact every day of the week, a great idea is to include a 'Green' section in your regular canteen menu. Advertise this clearly on the specials board, make sure new foods are visible to students, and consider including a 'meal deal' to promote green food options seven days a week. This will give students the option to make environmentally-conscious food choices whenever they'd like. A 'Green' section can also sound a lot more interesting than a 'Healthy' section, which could potentially be the exact same menu!
5. Nutritional menu option ideas
Breakfast – Baked beans, porridge, berries and muesli, scrambled tofu on muffins, fruit cups, wholegrain cereals, soy milk, almond milk, rice milk.
Hot foods – Falafel in pita, lentil soup, vegetable curries, lentils served with rice and vegetables, rice pilaf with vegetable broth, ravioli stuffed with sweet potato or spinach, risotto, spaghetti with marinara, spinach tortellini, vegetable lasagne, veggie meatball or eggplant sandwich subs, Pad Thai, sesame noodles, tofu and vegetable stir fry, vegetable fried rice, bean and vegetable burrito, black or red beans with rice, vegetarian tacos, vegetarian pizzas, falafel kebabs.
Cold foods – Sandwich with hummus and sprouts, salad with chick peas, tomato salad with white beans on Italian bread, pastas, chickenless Caesar salad wrap, three bean salad, garden burgers, vegetable sushi, vegetable rice paper rolls.
Snacks – vegetable spring rolls, falafels, pumpkin balls, fruit cups, fruit bread, corn on the cob, dairy-free muffins, white bean dip with wholegrain crackers.
Get your school on board! Download your Meatless Mondays School Kit below.